Arsen Episode 1: Aurelie
2 years ago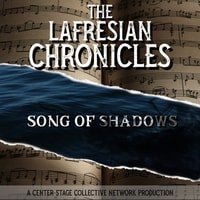 Meet Aurelie. A young woman who's life has just been flipped upside down after the death of her parents. Follow along as she tries to make sense of it all.
CW: death of loved ones, Fire related deaths
Thank you for listening. Today's episode was written by Nicole Tuttle and edited by Mariah Clawson, featuring the vocal talents of Nicole Tuttle, Mike Crawford, Jay Ortiz, Tal Minear, Mimi Brown, was edited by Brad Colbrook, Griffin Coldiron and Mariah Clawson, and featured the music of John Bartmann. For audio experiences that keep people listening, visit https://johnbartmann.com and Our announcer Sophia DeRise. Want to stay up to date on all things the LaFresian Chronicles: Arsen? Follow our social media for more information about upcoming episodes @lafresiaaudio on twitter. If you enjoyed today's episode, subscribe to our show on your favorite podcasting site and leave a review. Until next time listeners.
Transcript: https://docs.google.com/document/d/1tlwIcTfSJ-0_EuRoFMg1BHuNwOSHtcuNeJQPCau4kXY/edit?usp=sharing
Find out more at https://arsen.pinecast.co